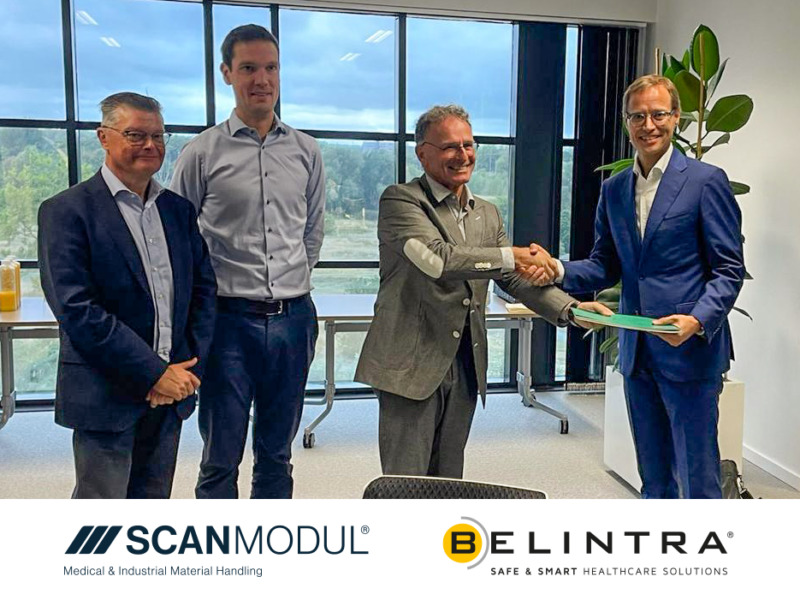 Houten (NL) / Semmerzake (BE) – ScanModul® International Holding B.V. ('ScanModul®'), supported by NewPort Capital ('NewPort'), today announces the acquisition of Belgian-based Belintra NV ('Belintra' or the 'Company'). The combination of these two long-established companies strengthens the position of ScanModul® and Belintra in the market for Healthcare Logistics. Both companies will continue to operate under their own names with Kris Liesmons, Geert Schepens and Dirk Deruytere, current directors and co-shareholders of Belintra also remaining involved with the new group going forward.
Patrick Bark, CEO of ScanModul®, comments: "Belintra has always been a well-respected and highly regarded industry peer of ScanModul®. With a great team, complementary product portfolio and geographical footprint, Belintra is a strong partner for ScanModul® and I am very proud that both companies have joined forces. The addition of Belintra's complementary product offering, such as their market leading mobile-IT solutions for medication distribution and their solutions for sterile goods handling, results in a broad and improved offering for our customers. This step is perfectly aligned with our accelerated growth strategy, which we embarked together with NewPort as of October 2019 and are looking forward to continue together with Belintra."
Kris Liesmons, CEO of Belintra adds: "With the collaboration between Belintra and ScanModul®, we are at the start of a new chapter in the history of our company which was incepted in 1965. Adding Belintra's innovative solutions to the high quality portfolio of ScanModul® will undoubtedly lead to further innovations which should benefit and create value for our customers. We feel a strong cultural match with ScanModul®'s leadership-team and as such, myself and Dirk Deruytere are very pleased to collaborate with ScanModul®, continuing to run the day-to-day operations of Belintra ScanModul® whilst Geert will join the Supervisory Board of the group".
The combination of ScanModul® and Belintra marks an important step in the industry consolidation efforts of NewPort. "We are very excited to be able to unite the capabilities of both companies, each known as leaders in the market for hospital storage and replenishment solutions and related technologies. With this combination the group strengthens its position in their overlapping geographies (i.e., Belgium, Germany, Switzerland) whilst also allowing the companies to expand their international footprint to developing markets (i.e., United States). We are also very pleased to have Kris, Dirk and Geert becoming fellow shareholders and being able to leverage on the extensive experience and industry knowledge of Geert with him joining the Supervisory Board", as stated by Melvin Sie, Partner at NewPort.
---